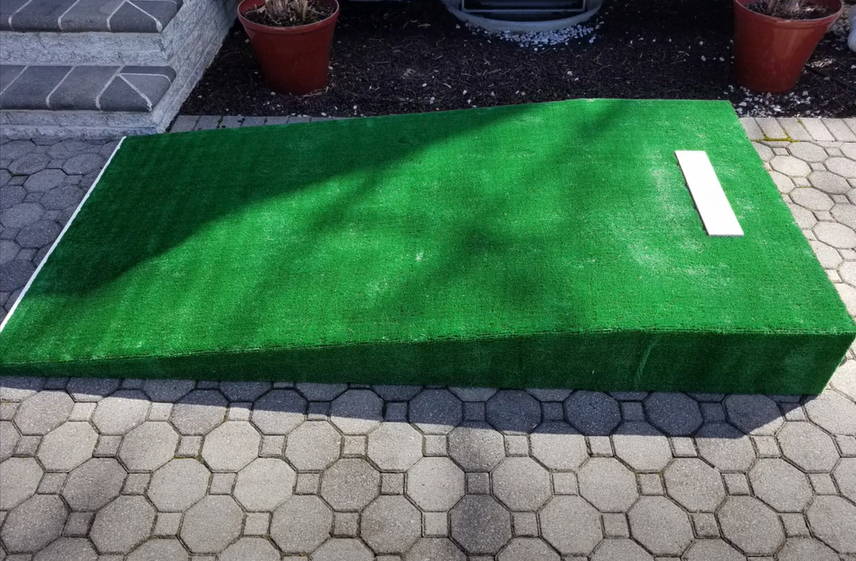 Hello baseball enthusiasts and woodworkers, today you are going to learn how to build a pitching mound. This pitching mound will be made out of wood with its respective dimensions, plans, and specifications, you will be able to do this pitching mound for your high school or for the youth of the little league.
It is not a very difficult project, but you will need a couple of tools to get it done easily.
We are going to build it trying to not spend so much money and with pictures and steps so you don't miss anything. After saying this let's check out what materials we are going to need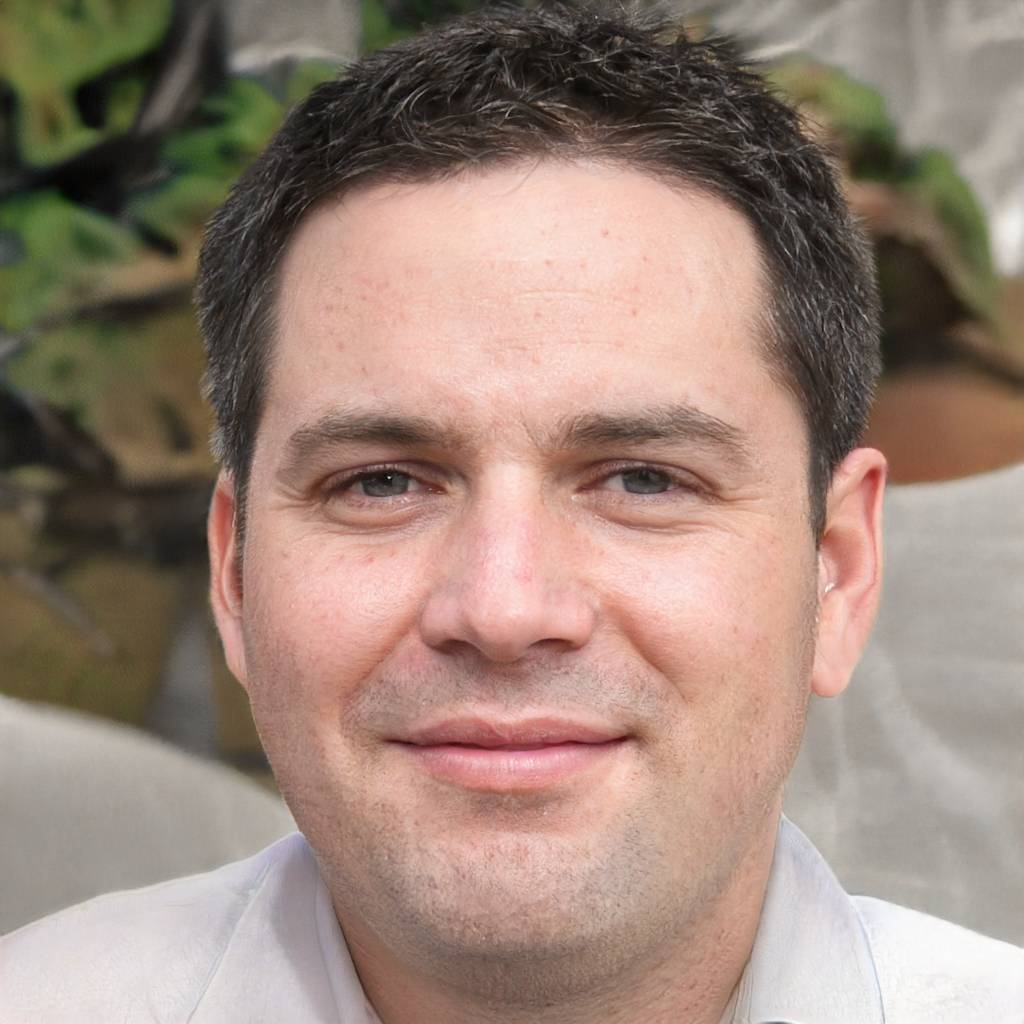 What will we need to build our Pitching Mound out of Wood
4'x8' (1/2 inch) sheet of treated plywood x1
1''x10''x8'common boards x4
1''x10''x6'common boards x1
6'x8'roll of outdoor turf x1
2''x4''x2' two by fours x12
Box of exterior 1-5/8'' screws x1
Can of water guard/sealer x1
Tube of liquid nails x1
Caster wheels x2
Piece of corner molding
Staples
Optional Wood Glue

Steps to build a portable pitching mound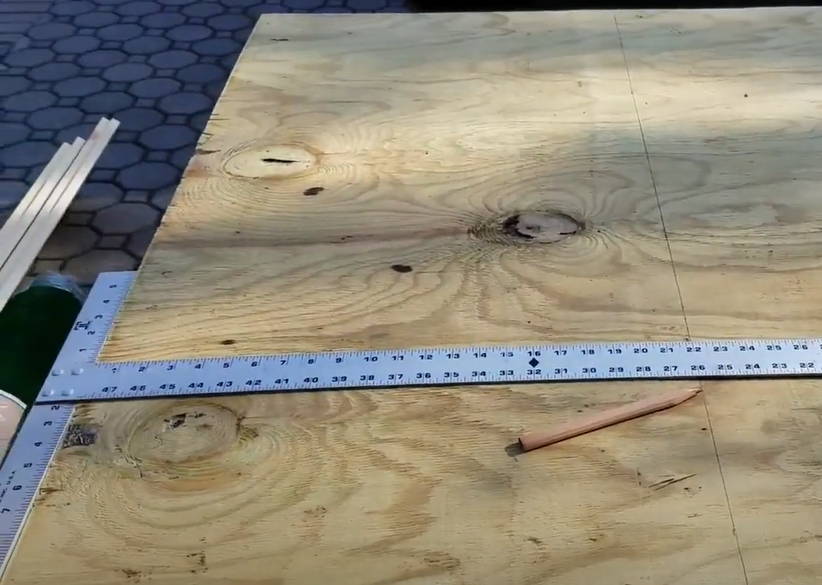 We ran out of diy portable pitching mound plans, but don't worry we are going to show you images and explain every step very nice with measures so you don't get loose
The first cut you want to do for this homemade pitching mound is the base, and that's going to be 22''. So set up your plywood and use a T square, draw the line and make your first cut. For this series of cuts, you can use a mini table saw or a jigsaw that gets the job done easily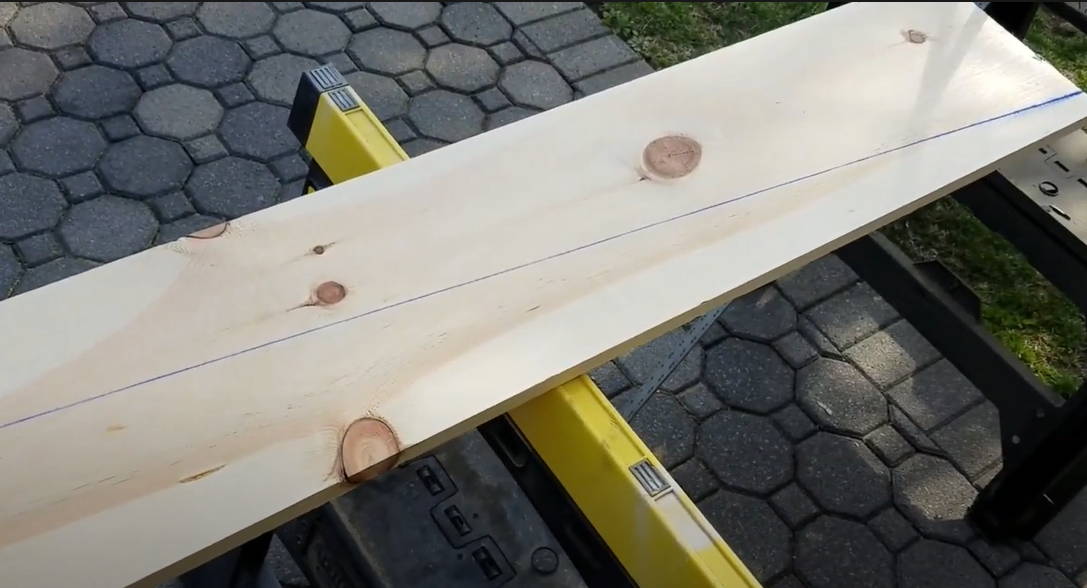 The next series of cuts is going to be on your 8' 1x10, so you want to go 22'' and make a mark. If you want it flush up against the back of the base I would go 21'', but either way, you'll most likely have to shave off some of the fronts of the mound in a later step. For that, you can use some of our wood smoothing tools
The other mark you want to make is 2'' off the bottom of that 1x10. Use a chalk line, make sure it's tight snap it back and get a nice straight to cut on. Always measure twice so the DIY pitching mound turns out nice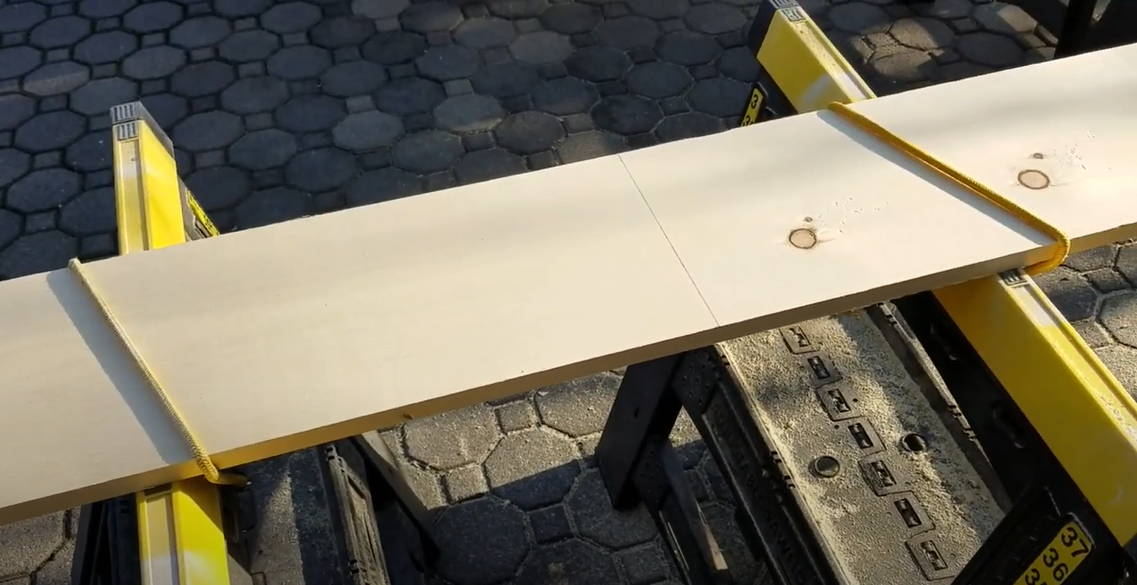 Once that is done on each of the 8' 1x10 you want to take the 6' 1x10 and you want to cut that down to 4', which is going to be part of the base of the mound across the rear of the mount
#4 Add the Wheels to the Portable Pitching Mound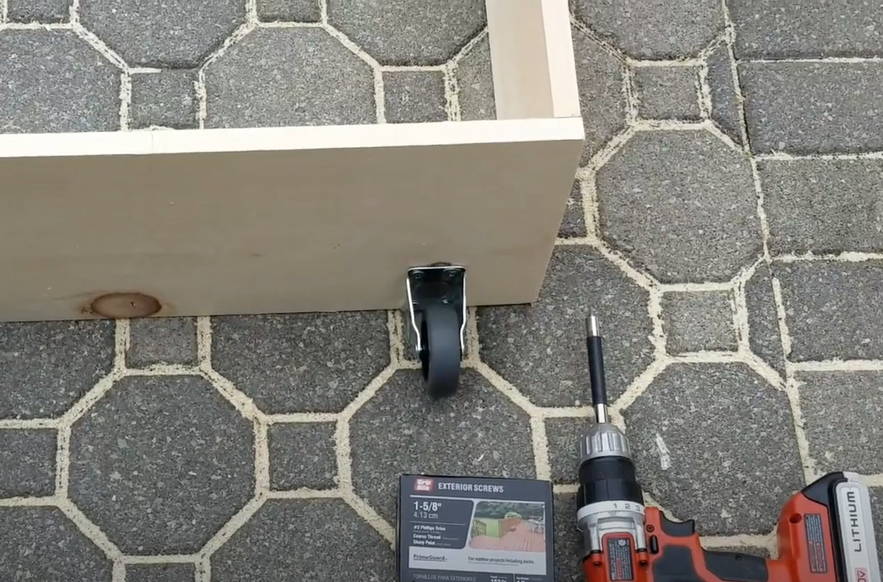 Next, secure the caster wheels 4'' from the corner at the bottom of that 4' base. Now drill holes, and use bolts with lock washers and nuts, it'll be a little bit more secure than those without a lock.
If you know your field has an irregular shape full of rocks maybe you will want to go with bigger wheels of rubber attached to the sides of the pitching mound like this pic bellow.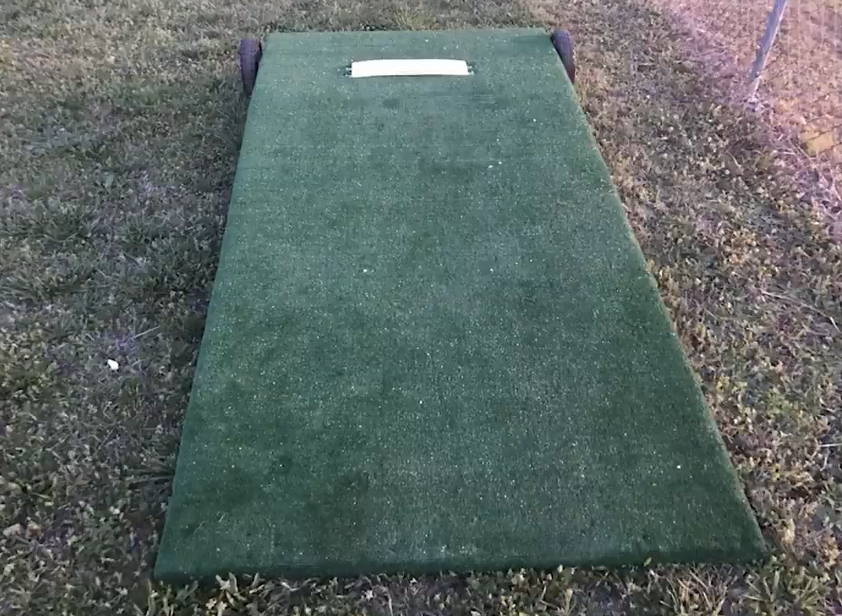 Now make marks across that 4' piece, where you attached the wheels, at 16'' and 32''. Layout those 8' 1x10 and secure them into the base with a couple of wood screws.
For clamping the wood so it stays still while you are drilling, gluing, or screwing we recommend our Procorners, the best corner clamp on the market. Also, ratchet bar clamps get the job done.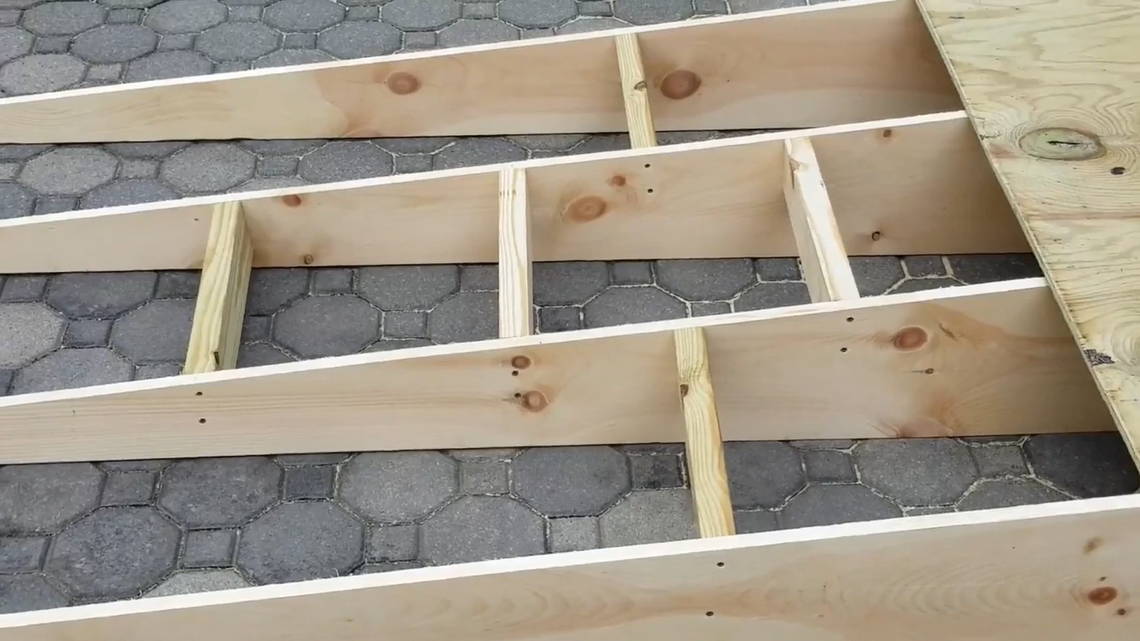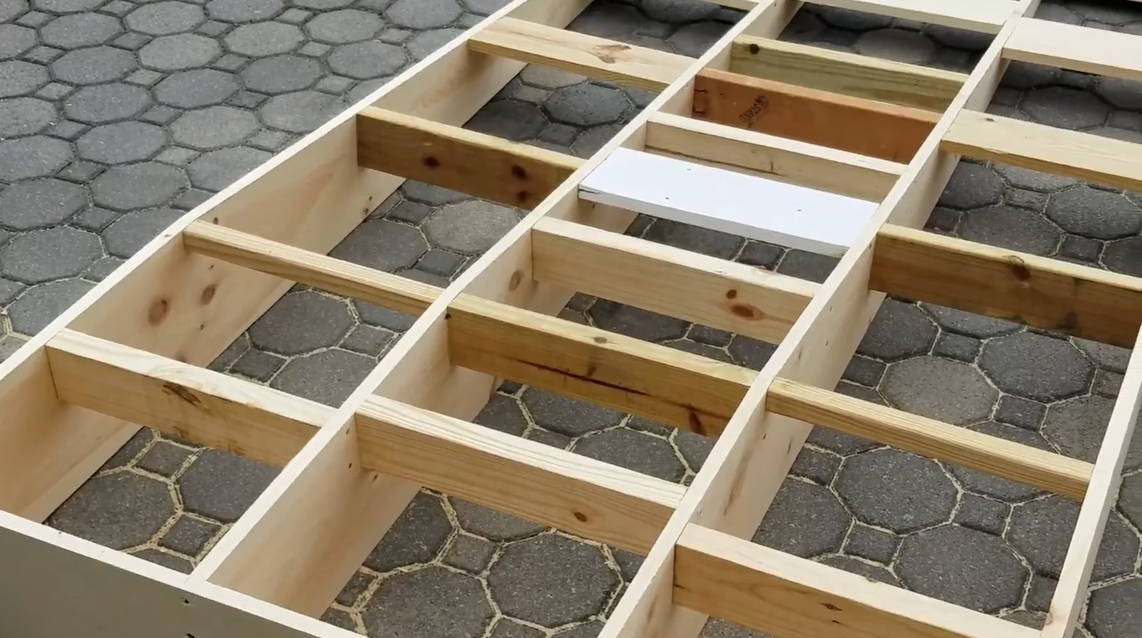 Next step you're going to want to start cutting the 2x4 and adding them as supports of the artificial pitcher's mound. The key here is to make sure that they are flush up against the 1x10. You'll also add the 4' sheet of treated plywood which acts as the base to the mound a and you're going to want to make a mark across each 1x10, that is where you'll want to add some supports.
So cut each 2x4 again, make sure they're flush and you want those pieces to really support both sheets of plywood right at the seam.
The number of support needed may vary depending on what type of plywood you have and the pitcher's weight. As you add supports you can put the plywood on top, walk on it, and see where the weaker points are so you can adjust where it's needed.
Important, when you are adding the supports beams make sure that the mound from rear to front stays 4' wide, and that's to ensure that the plywood is flush on each side. You also want to make sure you do see any weak spots that you address before you secure the plywood to the actual mound. Take your time on this step and add the correct quantity of supports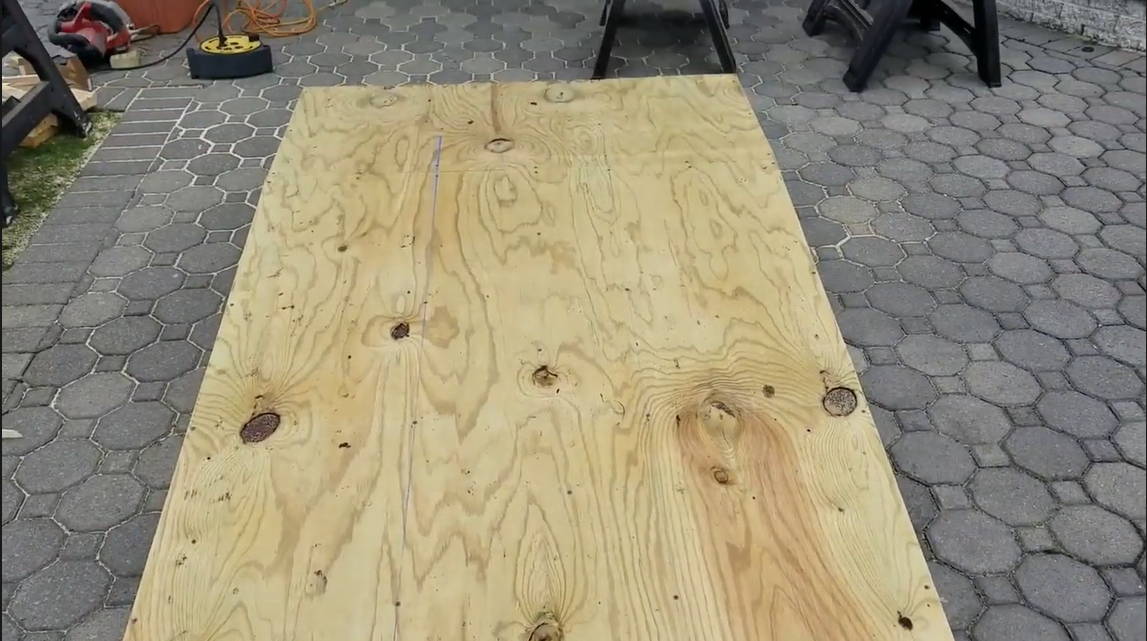 Add the 4' sheet of plywood, the 22'' wide, to the base, and what to do is just move it forward a bit so you can make lines where each of the 1x10 are positioned. This will help as we make tuck lines and we secure the plywood to the mount.
Now positioned the plywood on the top of the mound, make sure it's square, and flush up against the sides. Make your tuck lines and then simply secure screw the plywood into the 1x10. I went every 16, 18, 20 inches but you're going to want to make sure that the plywood is tight to the 1x10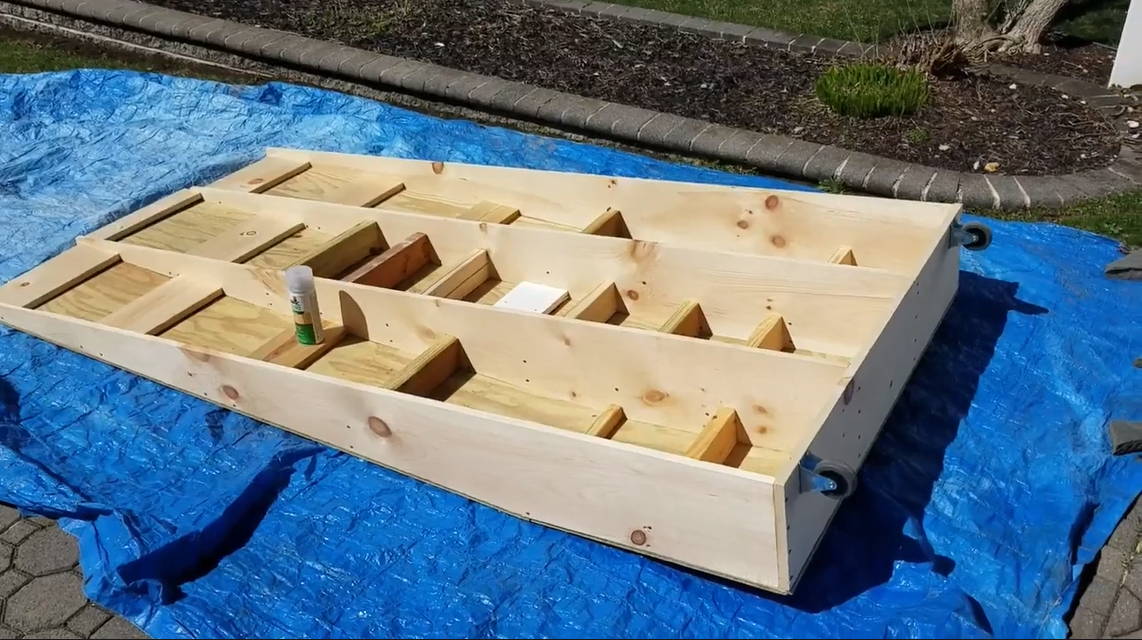 Next, lay out a tarp and flip the pitching mount upside down, this is where you want to apply the water guard or sealer. Just make sure you have good coverage across all of the untreated pieces of wood, which will include the 1x10 if you used common boards and most of the supports. This will help prevent it from rotting so it lasts you many games.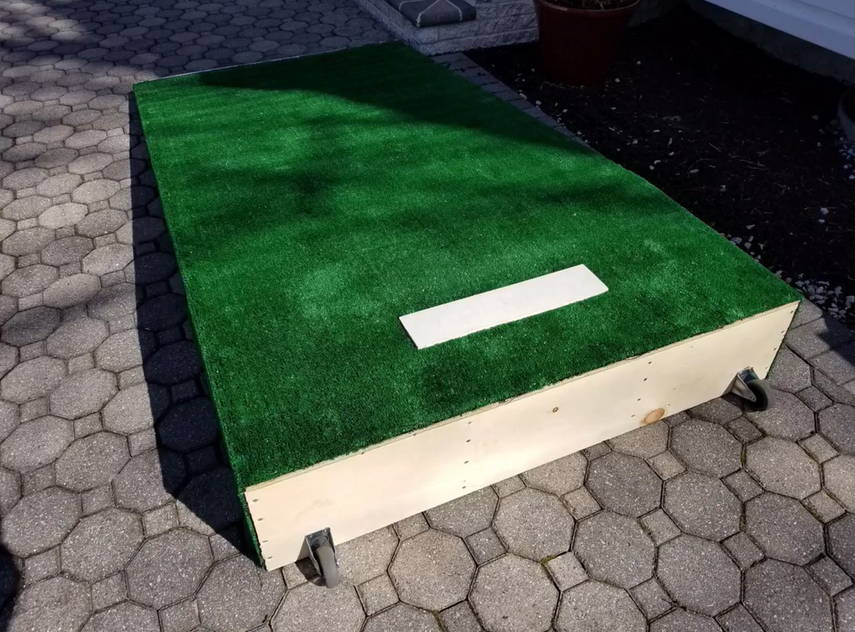 Next, you're going to want to roll out your outdoor turf and you'll also want to get your tape measure, scissors, liquid nails a staple gun our utility knife, and your pitching rubber that you're going to use.
I went with an 18'' pitching rubber and what you want to do is make sure that one side of the mount is flush so that turf is even with the base, and then on the other side, you can let it overhang. What we're going to do is to put a few staples across the back so it's secure and in the next step we're going to work on cutting the actual pitching rubber.
Position the pitching rubber where you would like it. I positioned it somewhat in the middle but towards the rear of the mount and then use your utility knife and make a nice clean cut around the rubber. Using your utility knife make the trim cut around the mound nice and flush. You want to make that cut right at the base of the 1x10 all the way around on each side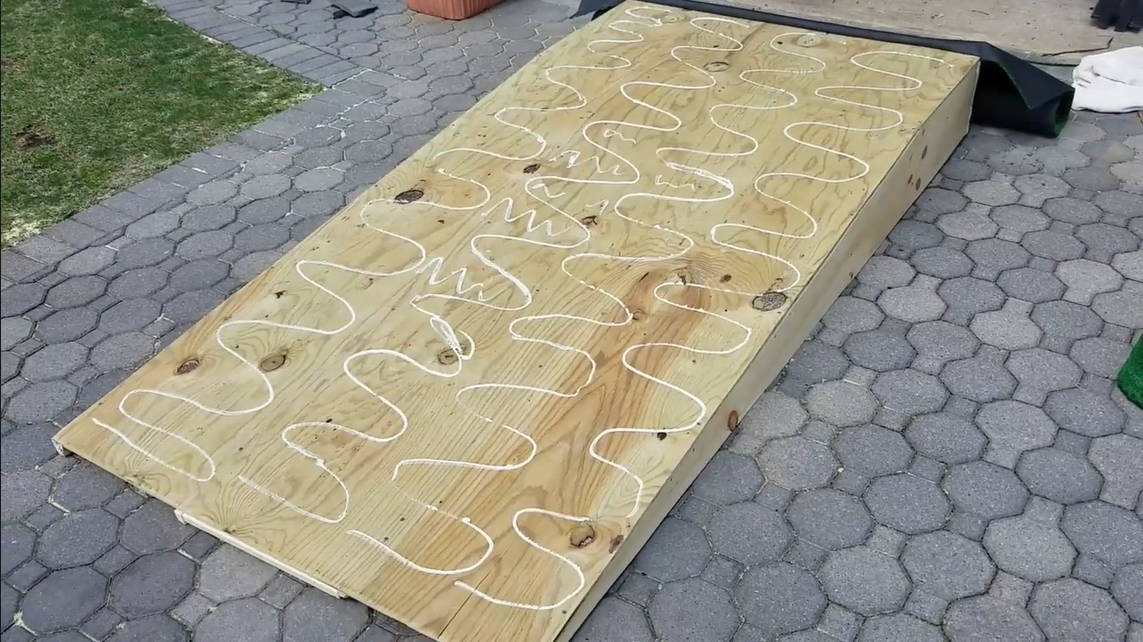 Finally, roll back the outdoor turf so that you can sweep the deck of the mount, you want to make it is nice and clean before adding the liquid nails. And when you add it you can purchase the one that requires a caulking gun just to make sure that you apply it across the entire deck of the mound.
Next unroll the turf onto the deck of the mound, and you'll also want to put some extra liquid nails on the mound and what I did was I just secured it in the cutout that we previously did.
You're going to want to pull that turf nice and tight and what I did was to add staples so that the turf was tight enough from rear to front. Repeat the process for the sides with liquid nails and staples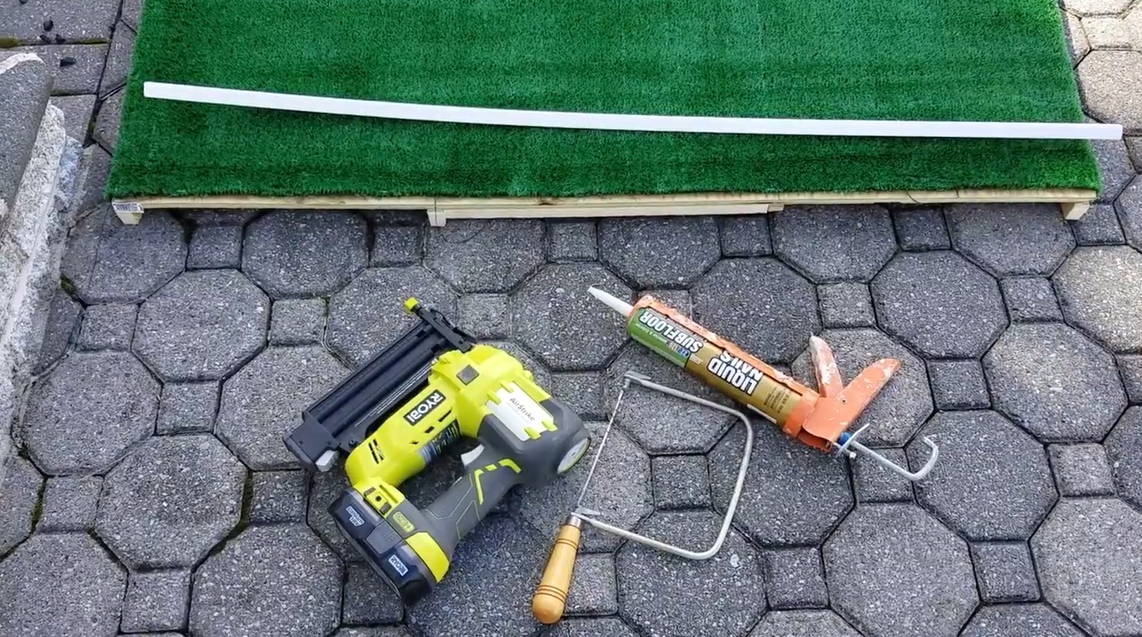 This last step could be considered optional buy it is important to avoid a serious fall from youth out of the pitching mound. What I did was to add a piece of a corner molding, using liquid nails and a nail gun. It not only dresses up the mount but also avoids trip hazards. Younger players can see the front of the mount and they'll be able to step up, especially if you're using it on grass. So that will be all, this wooden pitching mound will be useful for youth, baseball and softball hope you liked it.
Mobile Pitching Mound Specifications
When you are moving the pitching mound make sure you have a good grip in the front and that you pick it up with a proper angle so the caster wheel caught in the back
Also, you want to make sure its positioned on leveled ground
And make sure you give it enough time before start using it, cause the liquid nails have a cured time depending on the temperature
This baseball pitching mound could be used for softball too!
Palace the pitching mound on your backyard or little league field. You're going to have good games with this platform insured.
If you have any questions post them in the comments below, I will be reading them, and remember you can always subscribe to our newsletter which offers discounts and a new wood project every week, hope you enjoyed it, and thanks for stopping by.