The Culiau's bar ratcheting clamp is the favorite choice of expert woodworkers. Its durability, size, strength, and unbeatable price can be found in this quick bar clamp, making it the best option for 2021. Perfect for soft and hardwoods and any material you want to clamp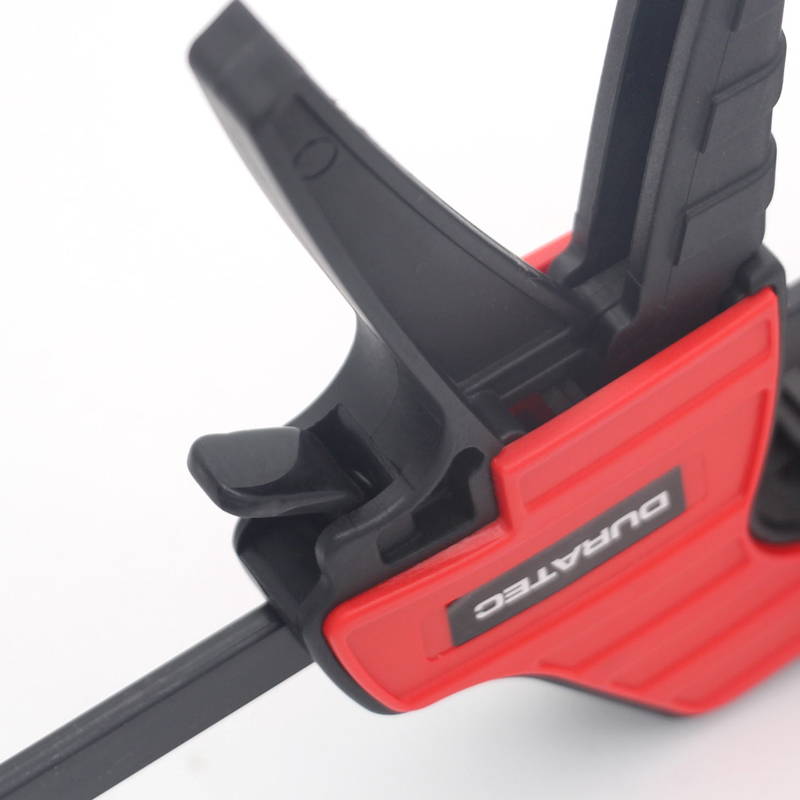 one handed clamp Specifications
Ratcheting Bar Clamp
Bar clamp sizes: 4, 6, 12 , 18, 24 inches. Cm: 10, 15, 30, 45.7, 61
Weight, Height, Width, Throat depth, Clamping range and Clamping force can be seen on the chart of the ratchet clamp image
Material: Hard Plastic ratchet clamp
Quick-realse
Why Choose Our Ratcheting Clamp Before Another
Work safe with rubber pads

Quick grip also used as spreader
Weak plastic hollow inside

Easy to break with hard materials
The Best Spreader Bar Clamp
Culiau plastic ratchet clamp is the best on the market because of the functions we will be approaching below, and also because it is a solid one handed bar clamp with no holes inside, made of a strong plastic that will not break and will not damage the surface of your board because it has rubber pads so it doesn't happen.
We always sell the best and we do not like to cheat in order to achieve a sale, so we can say safely and with total certainty that this quick release bar clamp has no disadvantages. And if you don't believe us keep reading the great characteristics that this quick bar clamp haves and why it so demand by our clients
What advantages does this ratchet bar clamp offer?
The most important thing when buying a new tool is to know the advantages it offers compared to others in the same range. The most prominent are:
Grip: Quick grip, strong and perfect for hardwoods and any material that you would like to work with

Sizes: It comes in different sizes with different clamping power and throat depth. Adapting to any project you want to carry out

Strong: High clamping strength and comes with rubber pads so its great strength does not injure your wood

Soft rubber grip: Protects the gripped object

Resistant: Made of high-quality plastic resistance so you can clamp any workpiece. Also, the way it was built and its shape make it even more resistant to any job

Adjustable: Easily adjustable with a button and a trigger to securely hold the workpiece

Multi-Function: In addition to tightening your wood, you can easily use it to separate two pieces of wood like a bar spreader clamp by changing the jaw of place.

Quick regression key: Quickly adjust the retention distance

Price: A competitive price but with the high quality of Culiau products. Buying a set of these clamps may be the most profitable option in the long term.

Professional: Recommended by experts and professional woodworkers, one of the best options on the market
Ratcheting Clamp For Sale
How to use the spreading clamp
This heavy duty ratcheting bar clamp works by pushing the button to release and slide the jaw and to close it you have to pull the trigger while it slowly squeezes your workpiece. The ratchet bar clamp can be used to squeeze as a clamp or to spread things apart.
This quick bar clamp comes in many sizes for the opening distance it can open so you can clamp larger objects. It has rubber pads for grip and so it doesn't injure your wood while doing it. With this clamp, you don't have to be afraid it bends when you are squeezing a hardwood because it has a solid structure, and the way it's assembled, it doesn't have a hole on the top like the weak ones. On those clamps, the top tends to hench to the exterior, not like the solid plastic of this one.
Another function it has is to set things apart by pushing them. It can be done by removing the part of the ratcheting clamp that doesn't have the trigger and placing it behind the other one looking to the opposite side. Pressing the trigger, as we did before for squeezing, will separate your objects.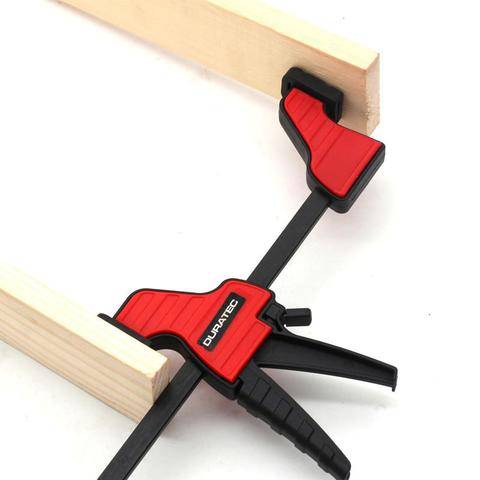 Ratcheting Bar Clamp and Spreader Best Offer on Culiau's Store
Culiau ratchet bar clamp applies precise and constant pressure, has a button to freely slide the jaw to any position, you can easily convert it to a spreader clamp and it won't injure your workpiece thanks to its rubber pads that make a better grip and soften the grip. What are you waiting to buy this awesome tool?
And what better than have the certainty that your product will be at your door soon since you are buying with a trusted brand such as Culiau's Store that has been in the market for years