The Mini Table Saw provided by Culiau Store is the favorite choice of DIYers, crafters, and woodworkers who work with small pieces of wood. It combines size, durability, price, and power to make the best portable table saw of 2022. Perfect for soft materials and small workpieces
If you work with small pieces of wood, plastic, or soft material for your crafts. With this multi purpose table saw, you will achieve a real upgrade in the level of your crafts, also accompanied by a faster job and an accurate cutting.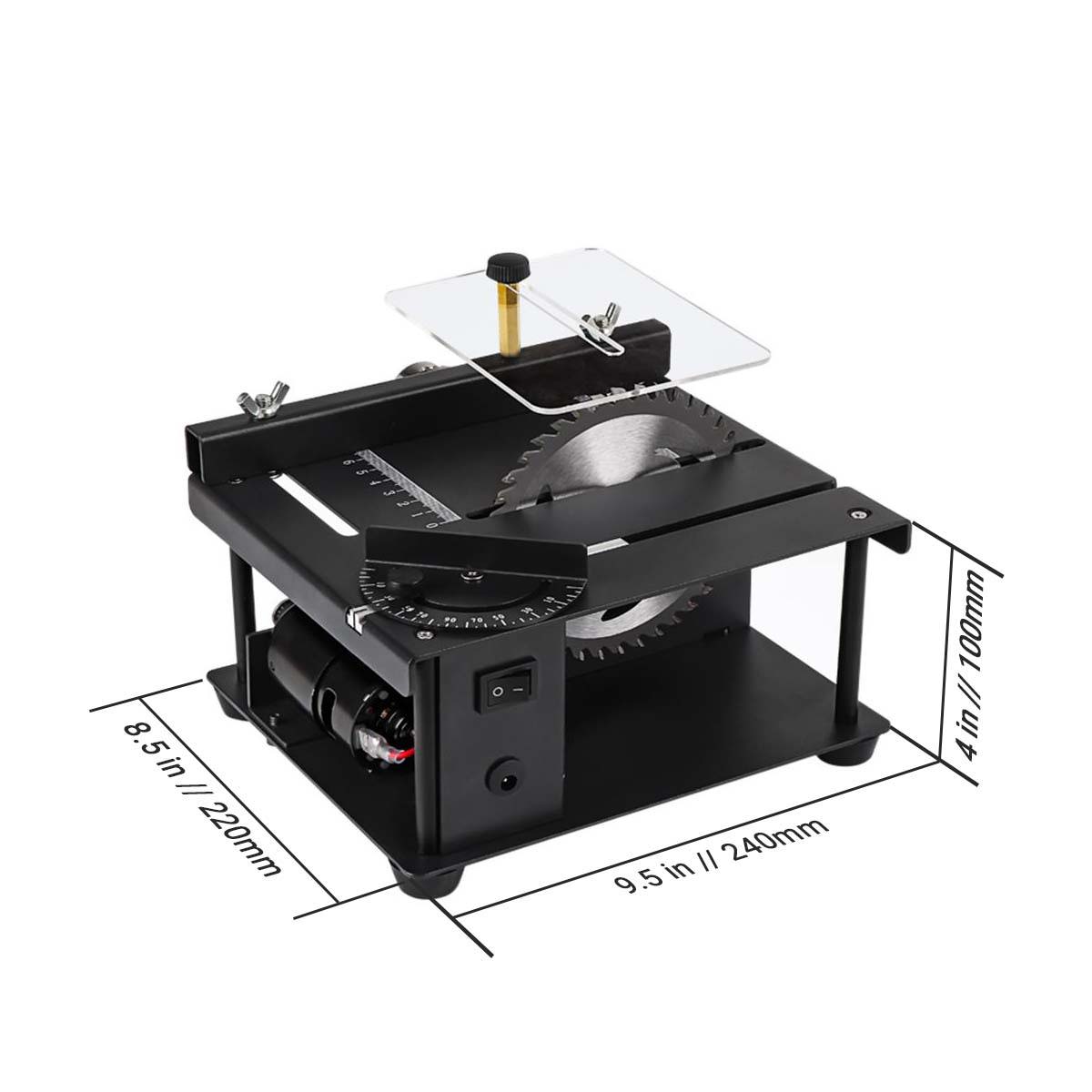 multi function table saw Specifications
Cutting depth: 40 (mm) // 1.57 (inches)
Rated input power: 200 (W)
Saw bladesize/diameter: 110 (mm) // 4.33 (inches)
Size: 240×220×100 (mm) // 9.5 x 8.5 x 4 (inches)
Rated voltage range: AC single-phase and DC 50V and below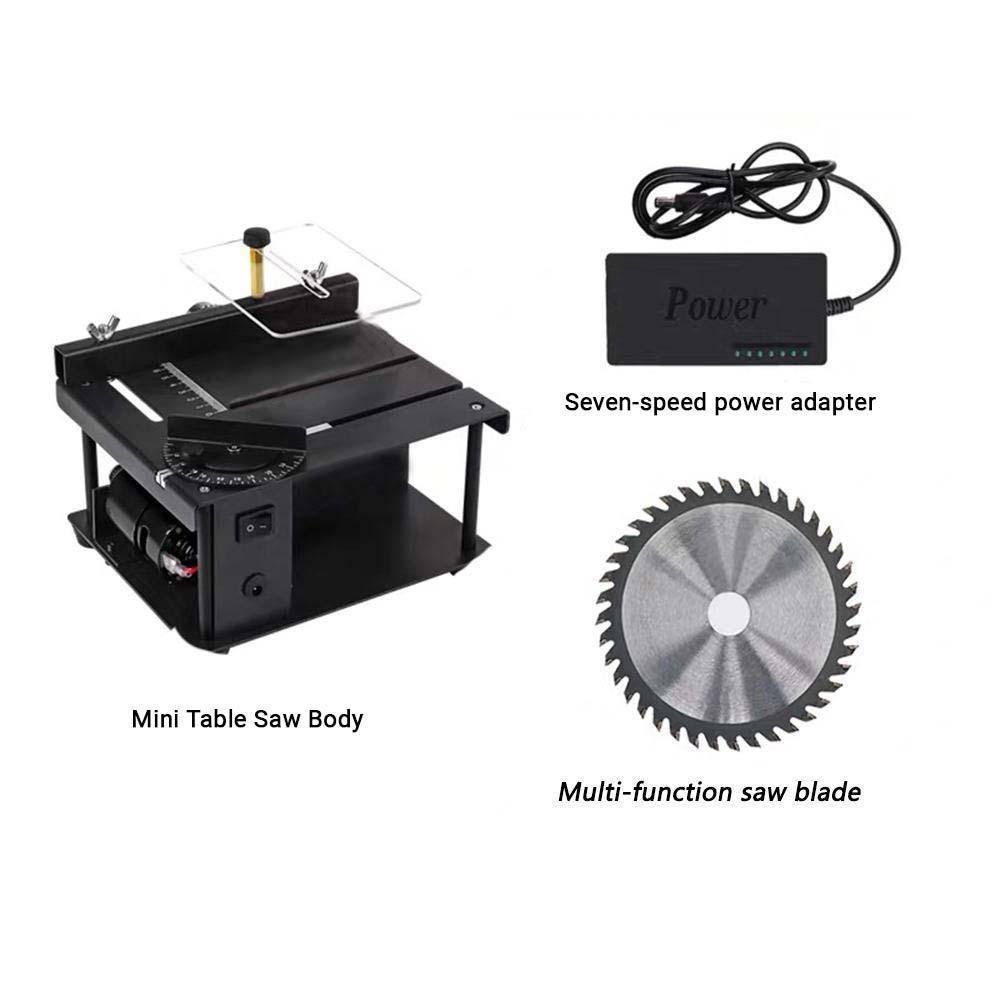 Why Choose Our small saw for crafts Before Another
Work safe with an acrylic protective sheet

Variable speed table saw, angle cutting and more
Weak, without strength to cut

Insecure table saw without reliable attachments

High prices for poor functionalities
best portable table saw for home use
Are you a hobbyist woodworker or a professional carpenter? Don't you some times wish you had a table saw to do your crafts quicker? It happens to me too but they are so expensive, and take up a lot of space of my room, not to tell how heavy they are.
So DIY enthusiasts I have a solution for you that will give you all the advantages of a big table saw but with a small size and also for a small budget. It is so useful, you can carry it anywhere and after work save it seamlessly in your storage so it doesn't take much space, for that and more we consider it the best portable table saw for woodworking.
This Mini Table Saw in specific is one of the best on the market because of the functionalities we'll be approaching below and also because it is fast, sharpen and portable so you can take your projects anywhere and continue working safely.
What advantages does this mini hobby table saw offer?
The most important thing when buying a new tool is to know the advantages it offers compared to others in the same range. This small precise table saw is an award wining product the most prominent advantages it haves are:
Power: 1000 to 3000RPM Best Small Table Saw For Wood, Plastic, Acrylic, Wood, Bodhi, Aluminum, etc.

Sizes: This portable tabletop saw comes with a compact structure and all the functionalities that a "normal" table saw could have, with enough power and easy to use functions. One of the best characteristics of this mini table saw is its size, which doesn't take much space in your workshop. It just weight 2kg/4.4lb so you can carry it anywhere!!

Strong: The cutting depth can reach 35mm, with that length the power is strong, and the cutting is smooth.

Precise: This tool is equipped with an angle cutting range that goes from 0° to 90°, making precise and quality cuts where it is needed to.

Resistant: So that you can work a long time with it, we upgraded the motor with a low noise interference that is equipped with a variable 7-level speed adjustment. As a result, it has more robust power and quality cuts providing a long time service.

Variable speed table saw: The speed can be adjusted in seven gears to fully meet your different cutting needs according to the material you are working with.

Multi-Function: Compact size to carry anywhere, operation security with a transparent baffle which avoids slipping and cutting accidents, precise scale ensuring high precision cutting, multifunctional for different materials at different angles, and a 7 level speed adjustment. What else could you need on a MINI table saw?

Portability and Practicality: Quickly adjust the retention distance

Price: A competitive table saw price but with the high quality of Culiau products. DIYers, crafters, hobbyist woodworkers will love this tool so much that it doesn't feel like a spend at all. The best portable table saw for the money is more like an investment in the long term for a quality cutting on your materials and a upgrade finishing your crafts

Professional portable table saw: Recommended by experts and professional woodworkers, one of the best options on the market
how to use a portable table saw
This is the best saw for cutting small pieces of wood, also is used to work on soft materials like, small wooden sticks, acrylic, aluminum, plastic, etc. It's used by hobbyies woodworkers, DIY crafters, and most at all creative people who want to improve their crafts and speed.
It has an upgraded motor that provided a 7 level speed adjustment to operate the machine according to the material and thougness you are working. It provides precision and a powerful cutting disc that ensure that your work can be done smoothly at different angles from 0 to 90 degrees.
We improved the appearanceand structure of the best small portable table saw. Now it's more practical than others and secure, which is an important aspect to keep in mind when you are choosing your next tool.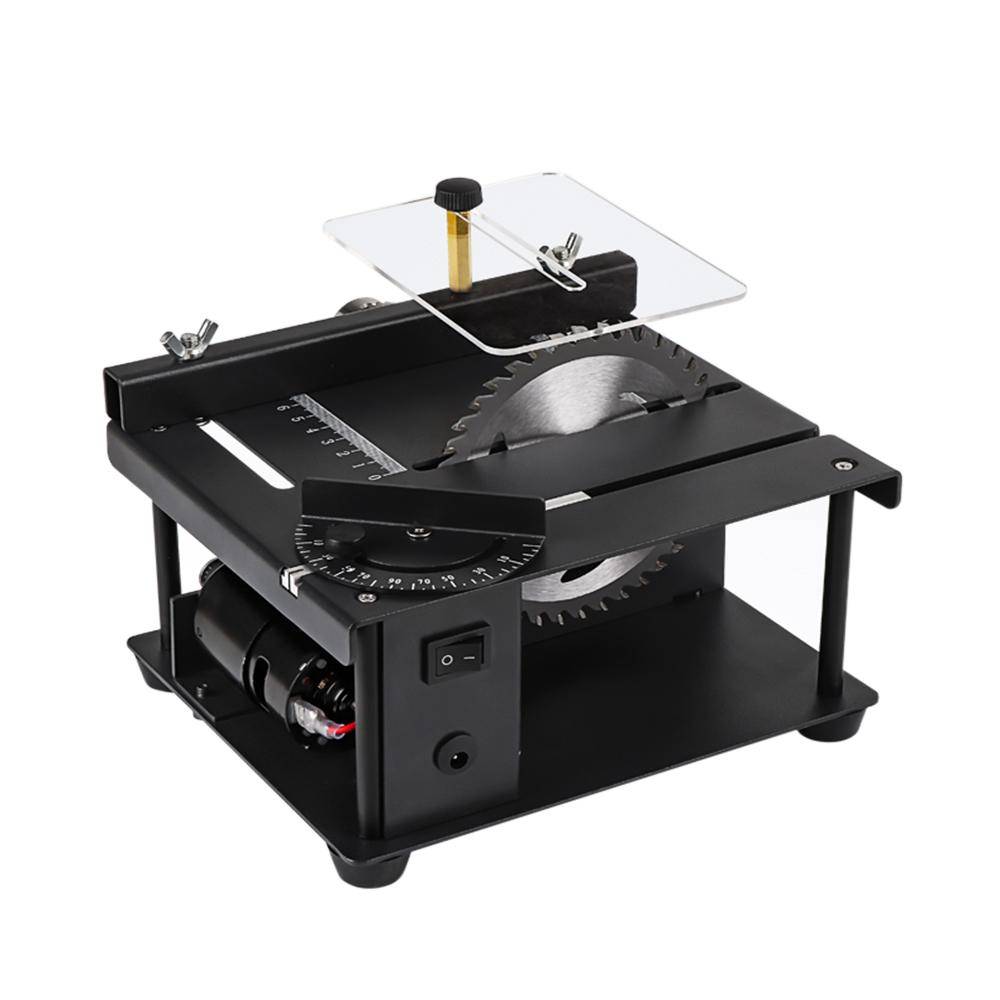 My family is used to work with wood, saws, and everything relationated. I am more like a carpenter but my mom, who loves realizing hand craftings, when she saw this mini table saw she fell in love with this product, it was the table saw for small workshop that she was looking for. Now she uses it for almost every project that comes to her mind.
A full-sized table saw was too big and too expensive for her who will only use it as a hobby and for small craftings. So this was perfect for her and for her back since she won't have to do much effort to carry as its weight is only 2kg/4.4lb.
Mini Table Saw Best Offer on Culiau's Store
Culiau mini table saw realize precise and powerfull cuts and is considered the best saw for cutting small pieces of wood. So what are you waiting to buy this awesome table saw?
Besides what better than have the certainty that your product will arrive quickly at your front door since you are buying with a trusted brand such as Culiau's Store that has been in the market for many years.
best saw for small woodworking projects The Choice of 2022
portable table saw reviews