Makes your projects faster and easier With this super gauge!
Get perfect, accurate profiles every time (without effort). It'll duplicate any shape instantly, saving time, energy, and focus.
Contour Duplication Gauge
With this profile copying tool, you'll never transfer profiles to paper again, whether you're woodworking, installing flooring, tile, siding, molding, you may eventually run into a door frame, set of pipes, or odd-shaped trim that you'll need to workaround.
Rather than using a piece of paper and pencil to trace the shape, or applying an obscure equation from high school trigonometry, just placethe Contour Masterand duplicate the shape.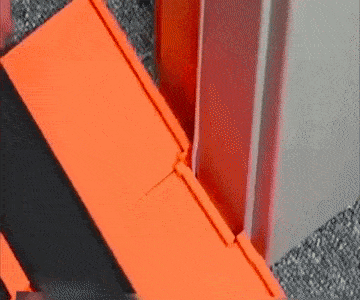 Profile gauges Available sizes:
5 inch // 13cm
10 inch // 25cm (recommended)
"No more cutting the same piece just bits at a time for a perfect fit. Just one measure, one cut, perfect fit, it doesn't get any easier."
For TODAY, we'll send you the upgraded version with the extra secure lock that will prevent your shape to change while you copy the profile, at the standard price.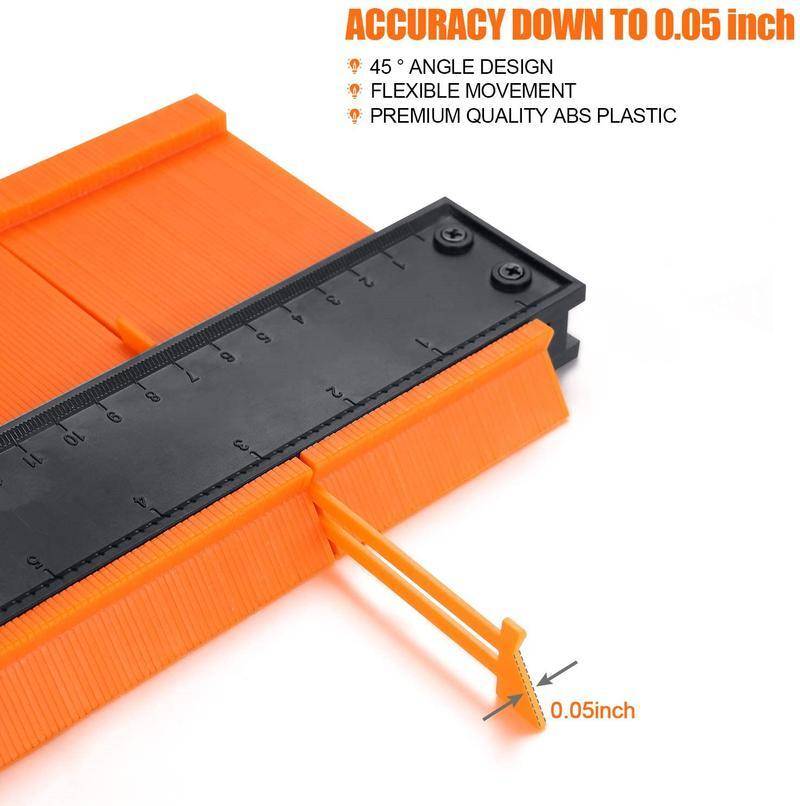 Why Choose Our small saw for crafts Before Another
Precise, it adapts to any shape and place

Secure lock to maintain the shape

Provided by Culiau trusted brand
Weak materials break in the first fall

Without lock, hard to copy shapes
Contour Gauge Duplicator Specifications
The Best Time Saver: 97% of our customers admit they would have saved A LOT of time if they got this jig earlier.
Upgraded Adjusting + Locking Feature: To have an excellent experience, we added an adjusting feature (to adjust the teeth's tightness) + we added a lock to achieve perfect contours every time (you will get this version at no extra charge today)
Extensive Application: You can use it for any kind of work that needs contour duplication such as DIY projects, woodworking, tiles, laminates, carpets, molding, auto body, etc.
Try it out RISK-FREE, with our 60 days money-back guarantee (no hassle returns). You have full 60 days to make sure you're fully satisfied with your purchase. If for any reason you're not happy simply contact us within the 60 days period and let them know you'd like to return your order
89% of customers are getting 2 or more to gift a friend, brother, or anyone. Get your upgraded ContourMaster™ (with lock) before we run out of stock!
What Advantages Does The Plastic Contour Gauge Offer?
This shape finder tool offers particular characteristics like no other on the market.
That's why when you are buying a new tool the most important thing is to know its advantages compared to others. This tool has a lot and the most prominent are:
High Precision: Offers incredible precision, while you copy the shape onto the device. It will stay immobile in its position the whole process. So then you can contour the shape on your workpiece

Large: It has great width for any shape you want to copy. For that it comes on different sizes, to do any job you propose

Ruler: It comes with a ruler so you can measure while you are molding the surface or copying it to the workpiece

Precise: This tool is accurate like no other when it comes to duplicating shapes since it is its only job.

Resistant: Made with high-quality materials that give it a long-lasting service

Price: Competitive prices compared to those found on the market. Besides, it's provided by a trustworthy company.

Secure Lock: The profile gauge tool comes with a secure lock for the same purpose we told above, that is the high precision it has

Portability and Practicality: It adjusts quickly to any shape while maintaining it with the insurance it provides. Plus it has a size that is easy to transport and useful for any job.
Shape Finder Tool For Sale
How to Use a Contour Gauge
The molding gauge is very simple to use you just have to place it without the lock on the shape you want to copy, put it out, lock it and then duplicate the shape tracing it on your workpiece so you can cut it and place it where you measured before.
It's an adjustable profile gauge that will adapt to any surface you want to duplicate.
Profile Contour Gauge Best Offer
Those who already have this shape tracer tool are very happy with it. Have you ever know something that doesn't present a disadvantage? If we talk about the molding profile tool it has not any, and if you don't believe us see the reviews below of people who already are using it.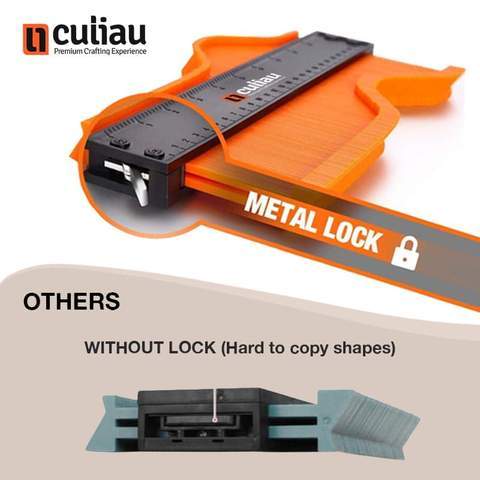 Why Is The Best Profile Measuring Tool?
A deep contour gauge is an instrument you'll need in your inventory. Those who already bought it agree that there isn't better tool in its current range on the market that equates quality with price. Besides we introduce the best offer at the best market price.
Take advantage of its benefits and buy the woodworking profile gauge now!