The
Best Engraving Pen

That Will Improve Your Crafts
This Engraving Pen is the favorite choice of experts and DIY makers. Its durability, power, size, and unbeatable value for money that can be found in the Customizer™, making it the best professional etching tool of 2021, perfect for glass, wood, and metals!!
If you are starting with engraving hand tools this one is going to be your favorite. Check it features below before buying your engraving pen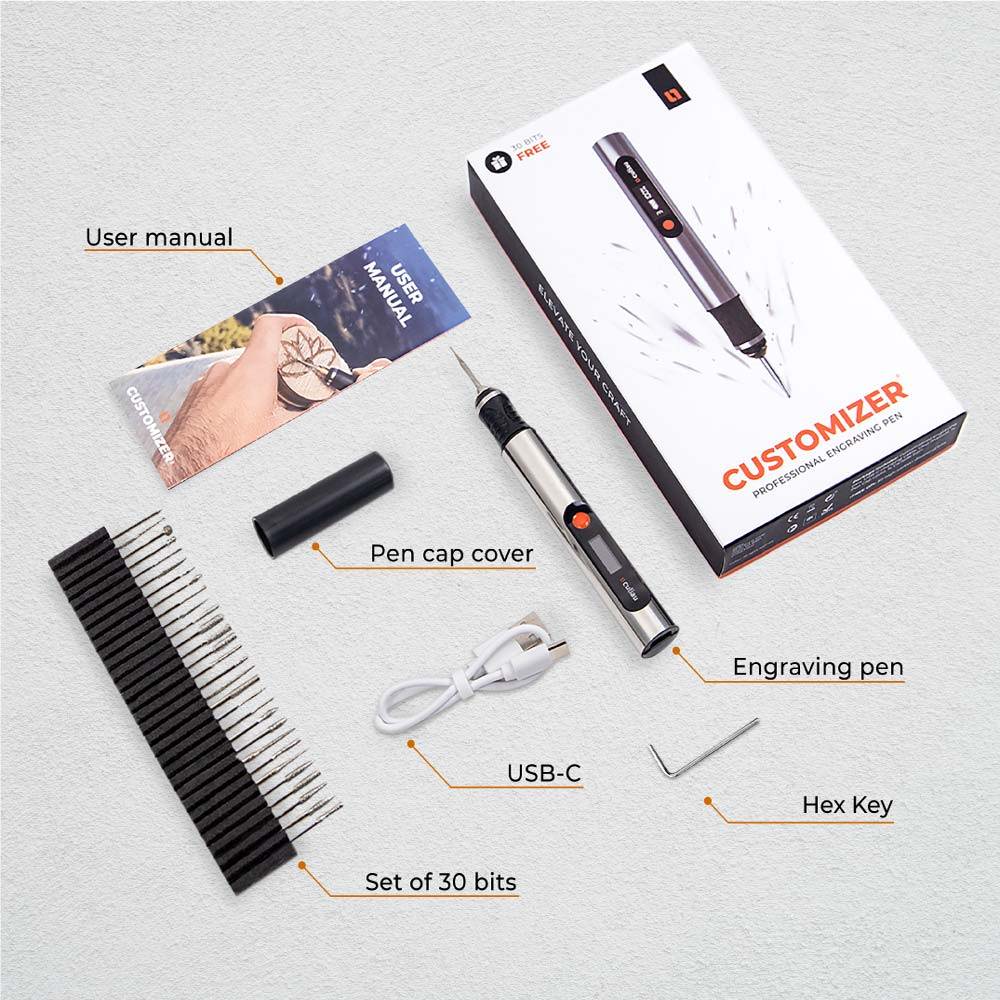 In this post, we want to show you what an engraving pen is and the awesome results you can achieve with one of these. Also what you can do with this electric engraver, and what is what we call engraving.
Engraving is a long-lasting way to personalize your metal, glass, plastic, and of course, wooden crafts. If you haven't had experience customizing or engraving your tools and DIY projects, this tool could mean your opportunity to get your crafts customized.
When we speak about etching pens, could be a pretty cheap and comfortable way to start your journey in this discipline. In this post, you will learn about Culiau's Customizer™ and pro tips and tricks so you can work it out the best way that is possible.
Material: High-quality metal and polymer
Speed: 5000-25000r/min
Power supply: USB charging
Power: 25W Rechargeable battery operated engraver
Features of the Customizer™Engraving Pen
Draw
like if it were paper:
The versatility of this tool makes the work as easy as you were drawing on paper. It works smoothly on wood (even on hardwoods), glass, and metals like steel, silver, and others.
It includes a USB cable to recharge it. The battery lasts for about 2 hours of continuous use.
It's a battery operated engraver and you can see it's level and the speed power you are using with the led display (unique in the market).
Made with the best quality materials. It includes an intelligent overload protection chip that turns it off automatically.
Ergonomic, lightweight, and compact. The Customizer™ is a professional engraving machine that fits in your pocket.
Although there are cheaper engravers, none of them has the resistance and durability this new engraver has. Also, keep in mind this is a cordless pen engraver that doesn't have to use disposable batteries and it comes with a complete set of 30 bits.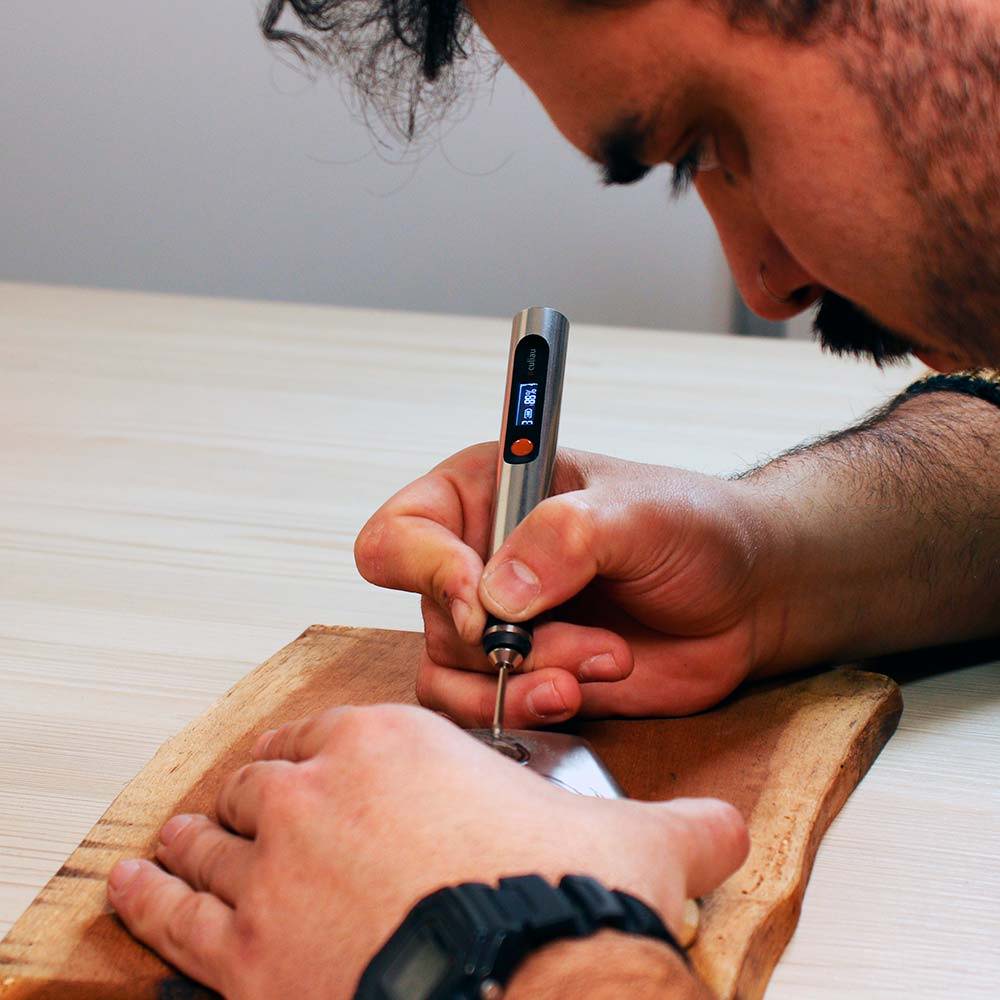 Where You Can Use This Etching Pen
When we speak about wood, we need to focus on the power of the tool and if it can work on hardwoods like oak, the etching tool for wood makes his part great, being able to work on them easily. With this tool in particular, you'll be able to make your wooden crafts better than ever, drawing on them, making unique forms or just, making the design what you want.
You can test this amazing tool on metal too, just saying that this electric engraver can work on chromium would be enough to make a point about its power. I used it to make an improvised ruler, and it worked smoothly.
The good thing about it when you work on plastic or polymers is that it doesn't get hot when working on the same surface for a long time, perfect to make tiny and specific works that require perfect precision.
Bottles, windows, and even phone backs, I can tell that this glass engraver can be used on almost any glass surface and it will work well. The speed that the engine can achieve is enough by far to make this type of etching without problems.
Besides all the materials we just name, this tool also can engrave on leather so you can give your crafts a nice touch-up. It's a very powerful machine so by changing the bits you will be able to cut through the leather o engrave it with beautiful designs.
Advantages compared to others Hand Engraver Tools
There are two kinds of electric engraving pens: Corded and cordless, in our times, thinking about having a cord in the middle of our vision way sounds so antiquated, cordless versions are the most transportable ones, of course, they are also, more useful because they can be used wherever.
Culiau's Customizer™ is powered by a battery that is rechargeable by USB don't be afraid the rechargeable battery makes it lose power, it has the same engraving power or more than a corded engraver.
The speed is the most important feature for an electric engraver pen, it determines the precision that you will be able to reach with the tool.
We measure the speed by RPM (revolution per minute) the Customizer™ can operate up the 25000 rpm, enough to engrave tough steel like chromium or even hardwoods like oak, which are characterized by their hardness. On this high spee d engraver you can choose between 3 different speeds so you always have control of the deep and power that you are engraving.
Another big thing when speaking about engraver's tools is the accessories that come with them, the bits used to engrave are the most important accessories by far.
In this opportunity, the pencil engraving machine is offered with a set of 30 engraver bits, ideal to make any engraving job from heavy and tick lines to skinny and neatly ones.
One of the best points about having a cordless engraver is the comfort, its a fact that being without the cord can make a real difference, especially when we are working with a tiny or delicate object and a mistake can define all our job. And the fact that t is so handly make it an easy portable engraving pen
The Best Engraving Pen of 2021
The right question would be what can not be engraved! These manual engraving tools are very useful because can be used on many surfaces and materials, you can work projects on plastic, glass, wood, and even steel but you already know that, let's talk about some specific uses.
The best about the cordless engraver is that they're really easy to use, you just need to place the bit and press the button. Use it like a pen and paper, making a bit of pressure above the surface with the tip you are engraving art pieces. You will be able to etch anything you can imagine from leather, wood, glass, plastic sculptures, and more!
It's the best engraver for jewelry, with it you can make unique jewels pieces, customize designs, or on existing projects give them your personalized design!
(in this photo you can see some engraving pen projects that our Customizer™ can easily achieve)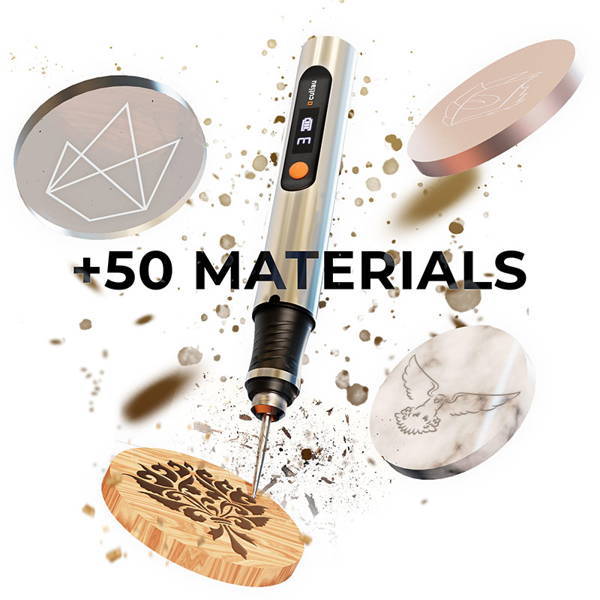 Identify the surface you are going to engrave, it is not the same if you are going to etch glass or steel, even different kinds of woods can have several different hardness, this will define the power that you'll be needed to engrave.
Set up your bit in the etching pen, you can try all but you will be fine with the most simple ones at first.
Set the speed you'll work, if you are working with wood the first speed will be enough to work pretty comfortably.
Clean the surface on which you are going to work
Start engraving, making some pressure in the object, and then, draw slowly steady, and not rushing.
You can grab a toothbrush and clean the surface you are working on, this will make your work even more comfortable.
You can draw on paper different designs that you want to engrave and after transfer them to the material that you are going to engrave, this can help you to save time and avoid mistakes.
Apply the right pressure to the surface with the engraving pen.
Use a Template before start the project.
Have a little practice before you start engraving the final workpiece.
You can take breaks for you and the machine so it doesn't get overheated.
Experiment with the depth until you get the right for you and your project.
Secure the material with some clamps so it stands firm while you are working.
Work in a place with enough light so you can see clearly what you are doing.
Outline first.
Remove the dust that the handheld engraver tool makes
Security measures when engraving
As you know, safety is one of the most important things when working and making DIY projects. The engraver pen is harmless, even kids can use it (with the supervision of an adult). wear the correct security measures, that's is why we want to encourage you to stay safe and spend some on your security. Of course, not wearing a pair of gloves could be a bad choice and we can get hurt, that's why grab one is the first thing you will need to do.
Safety glasses are a good choice, the engraving is practically like drilling, and of course, tiny parts of the engraved material can be projected to our faces. That is why also, we recommend wearing a mask, this last one is a must-have when engraving glass. Glass can be very dangerous if we accidentally inhale it.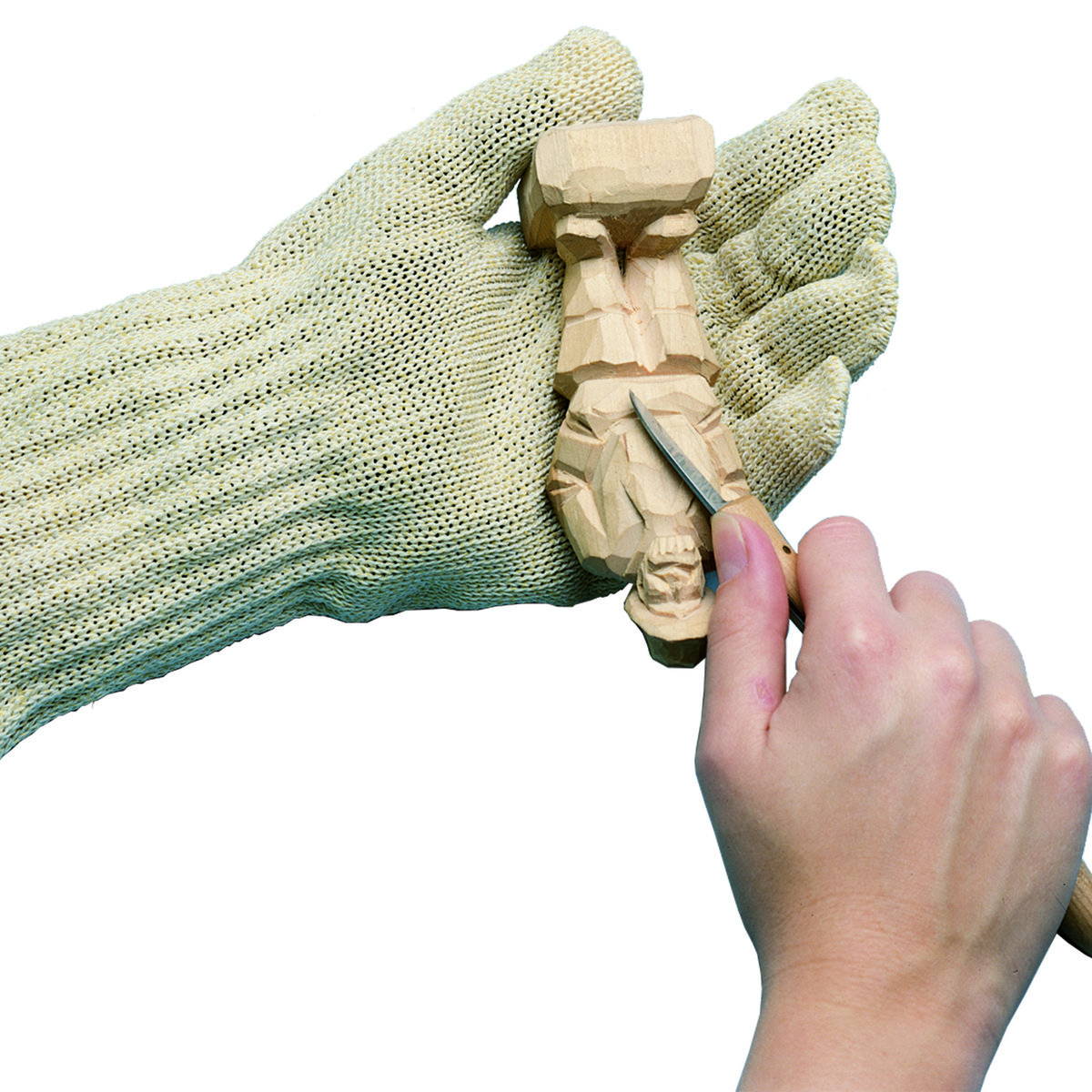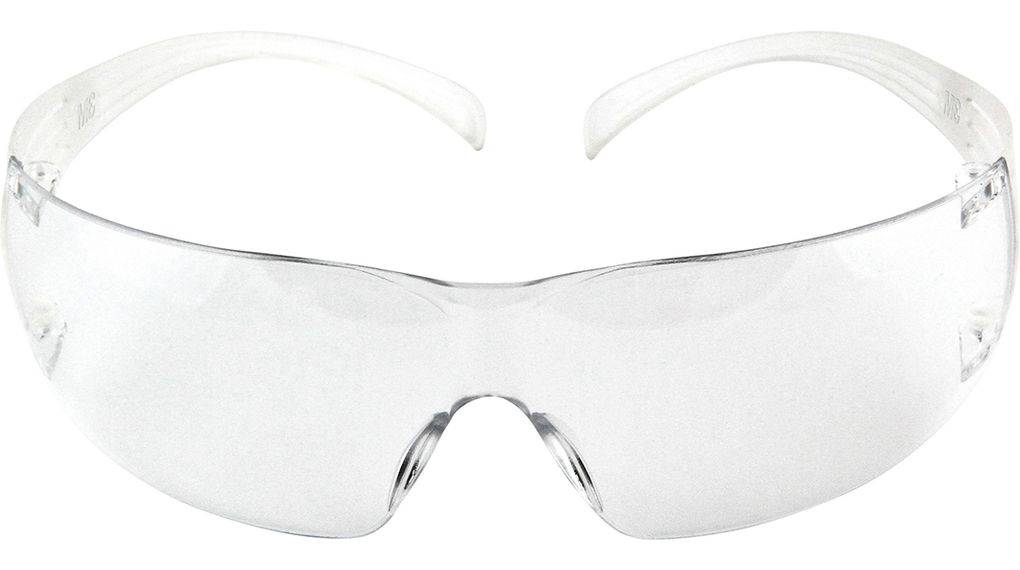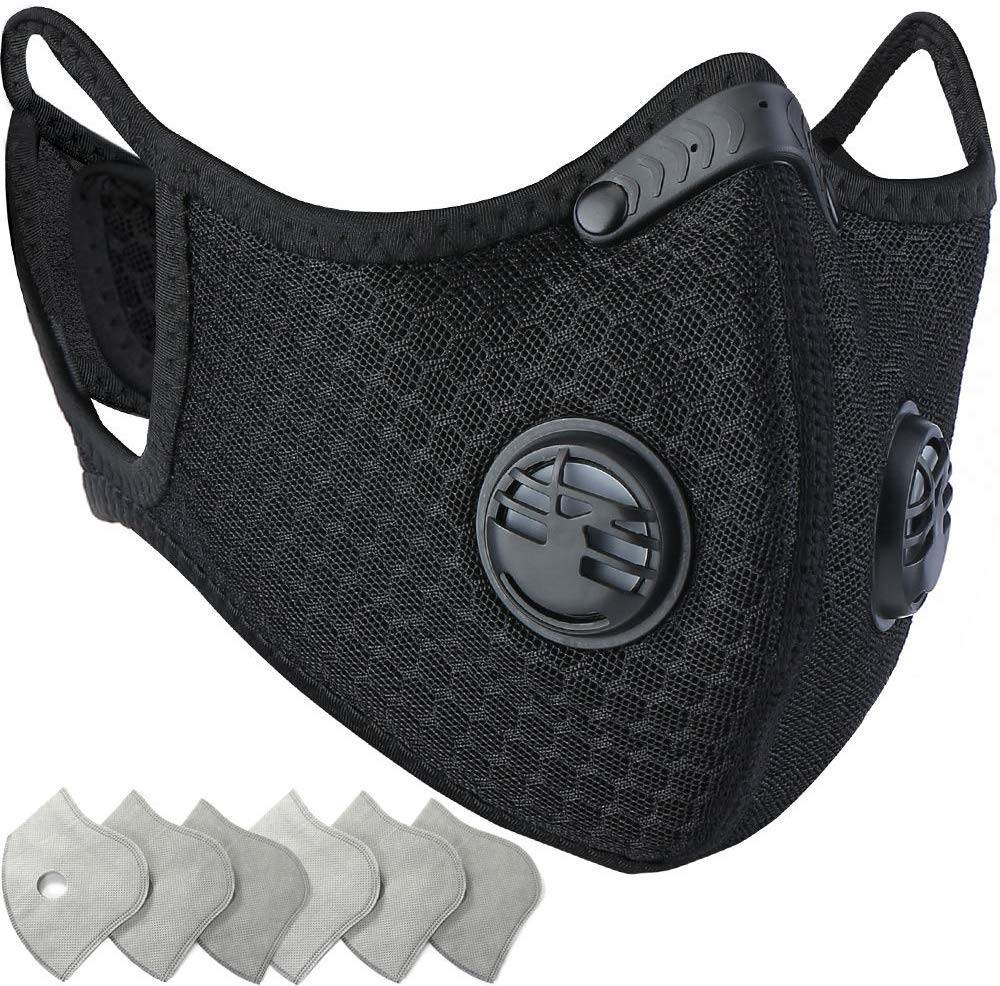 The 3 components are pretty cheap if we put our safety first, with gloves, security glasses, and a mask you will be able to start your journey with confidence.
How to extend its lifetime even more?
Although the Customizer™ etching pen is built with the best materials and also have a chip to prevent overload, it's a fact that we can extend the lifetime of our electric etcher engraver with some basic good practices:
Do not use it while charging if possible.
Do not use the most powerful mode all the time, this is not necessary.
Think about the job you are doing and select the right needle for it.
Clean the tool and bits after use and store its always in its case
These simple habits will add a lot of time to our customizer's useful lifetime and also, will save you much time.
Why Choose Culiau's Customizer™ Electric Engraver?
I work sculpting and I would like to say that doing art as well, finding the right tool for this job made me a lot of time and money that I am now slowly recovering with the Customizer™. I have tried non-electrical, electrical, by batterie and no one gets the job with the correct power like this one. That's why I consider it the best engraving pen.
One of the choices is non-electrical engraving pens. They work with pressure and a sharp tip to engrave, these tools are very expensive and not that accurate for small objects a specifics touch-ups.
Also, I remember working with the old machines that were heavy enough to get my arm tired in the morning, definitely I don't want to get back to that time.
Now I have this cordless engraver that saves me a lot of time. This tool in particular, even though it's a battery-operated version, it has the same power or even more than the corded ones, besides it's precise and doesn't require too much pressure to engrave. Work feels like I have a pen and paper in my hands, I can achieve results that I never imagine before with a professional look on my workpieces
It has 30 extra different bits so you can choose the appropriate one for the job, I believe that no brand in the market has achieved this level on a tool. If you are someone who appreciates the intrinsic feel and quality of the finish of engravers pens, creating art, or simply touch-ups that are difficult to achieve, this tool is for you.
What are you waiting for! Go and get one for you Now!
Experts have a very clear opinion and

recommend the Customizer™ Electric Engraving Pen

as the best choice for 2021.
Cordless Engraving Pen Best Offer