How to make cabinet drawers 2021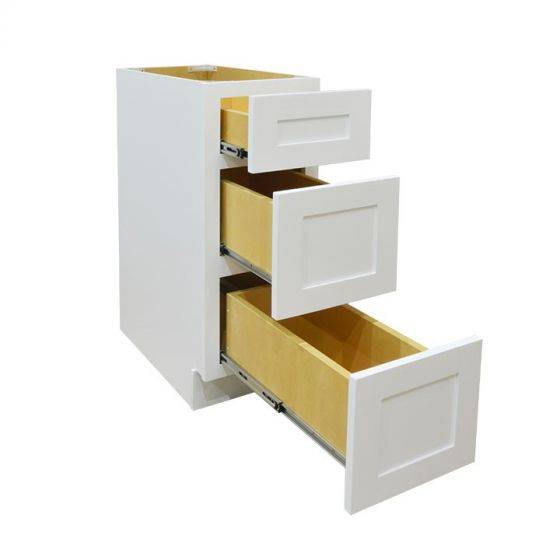 Make a Cabinet With Drawers
Either if you wanna change your drawers or make something new, this guide will help you to build beautiful drawers for cabinets and save some money. They slide very easily with the estructure but If you don't have it yet you can combine this guide with learning how to do base cabinets and do it all yourself with our easy DIY steps.
If you use plywood (better than solid wood) and with the corner clamps, things will be lined up and square. You won't have to worry about your wood being twisted or warped. I'll make sure we don't miss anything and you will be able to see how to do it every single time. Let's start in an easy way
1/4″ Plywood
3/4" pocket holes
1 1/4" wood screws
Wood Glue
Ball bearing slides
Steps for Making a Kitchen Cabinet Drawer
1- Measures of the Front of Your Drawers
Measure the frame opening and subtract ¼ " from both the height and width to find the size of the front of your drawer. The general rule of thumb is to leave a ⅛ "gap around all sides between the front of the drawer and the frame.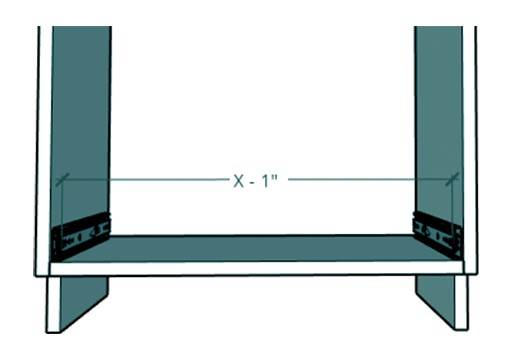 Once you have the sizes of your drawer you can integrate your slides. You'll need Ball bearing slides, they come in many sizes so you can choose whatever measure you want, as long as it's the same length or shorter than the depth.
How to install drawers slides and where
You canuse jigs like drill punch locator guide to mount the slides. A tip if it's possible turn your cabinet on its side it will be much easier to measure and install. I put the cabinet in, measure, dial, then use a square to draw a line on that marked square in front of the cabinet. Then I align the slide with the mark and screw it into place.
I always let 1'' more than the drawer front, in this case, it was 12'' so in 13'' I install the next slide (In the picture it's more clearly)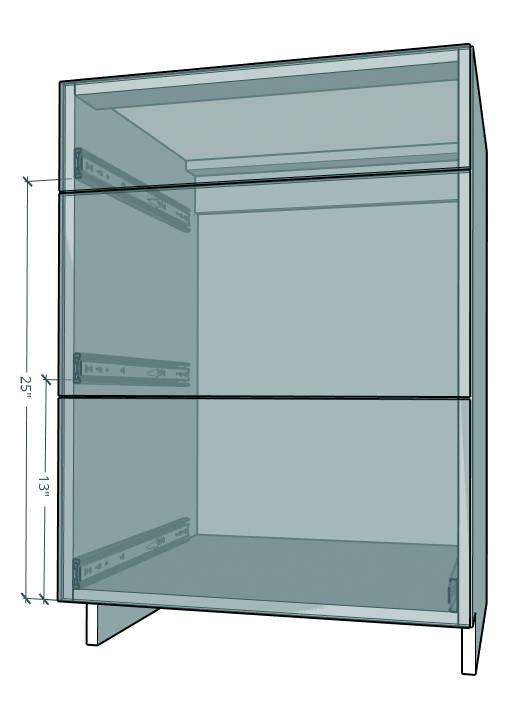 Normally, your front will be ¾ "thick, so position the slider ¾" from the front edge of the cabinet. These ball bearing drawer guides have horizontally slotted holes in the cabinet-mount part and vertical slotted holes that mount in the drawer box. I use the round holes to hold it in place.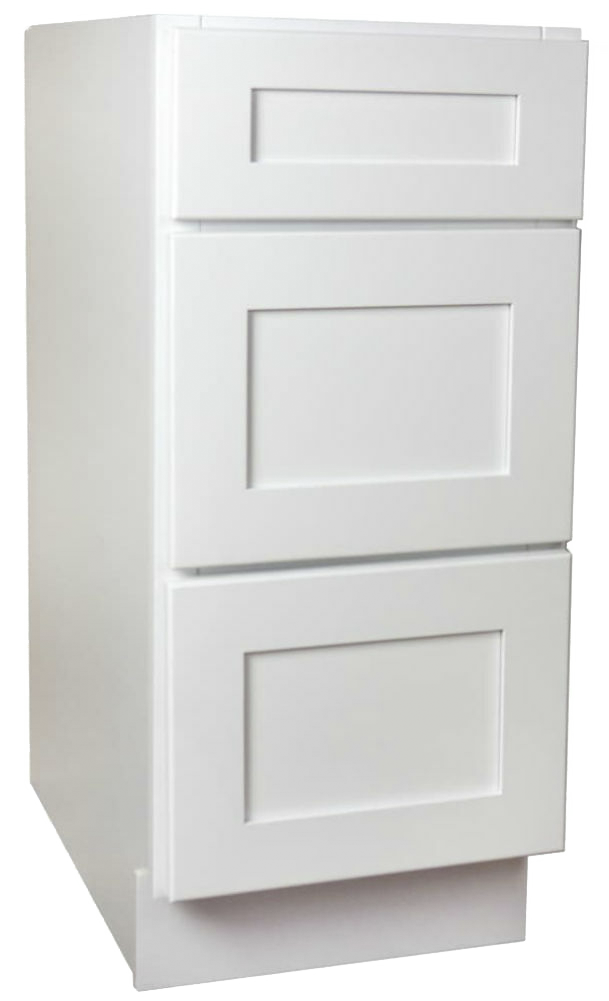 3- Build the Dovetail Drawer Box
Now that the sliders are in place it's time to build their dovetail drawers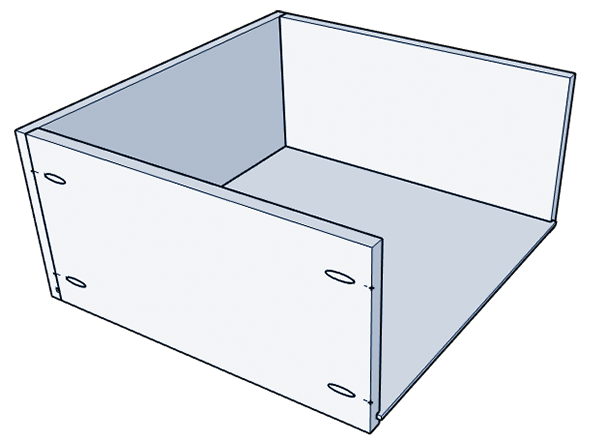 LENGTH & WIDTHS of the Drawer Box
You need the length of your slides and the width of the opening where you are going to put the drawer. With that sizes, you will cut all your pieces to make the drawer
The total width of the drawer box must be 1 "less than the opening. This leaves space for the drawer guides sliders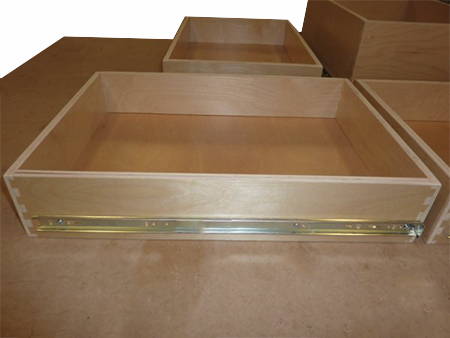 Build the drawers using ¼ plywood of the box. The ProCorner will hold your wood pieces tight while you are screwing and gluing the wood. They are long lasting so you'll have them for future jobs.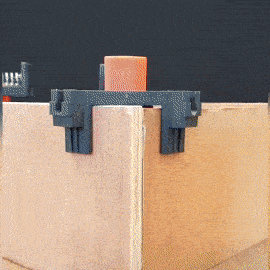 Assemble the side pieces using ¾ "pocket holes and 1 ¼" wood screws
You will need corner clamps set to hold parts square while assembling and gluing it
4- Paint and Place the Drawers Fronts
There exist two form of placing drawers fronts
Inset Drawers (inside the drawer opening)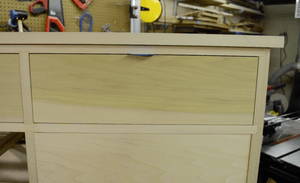 Overlay Drawers (On top of the drawer opening framing)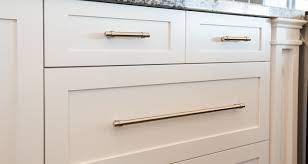 In this tutorial, we will use overlay drawers cus they look more cutter for me. We'll glue the wood top that covers the frame and add the handle to our drawer and it will be ready to go. You have your own cabinet drawers
You can paint them during the process or when you are done, remove the remaining glue and paint it the color you want.
If you need help making the structure of the cabinet for these drawers with slides you can consult my post and learn How to do Cabinets or if you need shelves you can do this Hexagonal Floating Shelf easy and simple with my guide.
Now being honest this isn't much science. Everybody can do a drawer, you only have to pay attention, measure multiple times the sizes and do what is convenient for you with your common sense. This is a guide not a rule for every drawer that you will make. You can do this and much more I promise.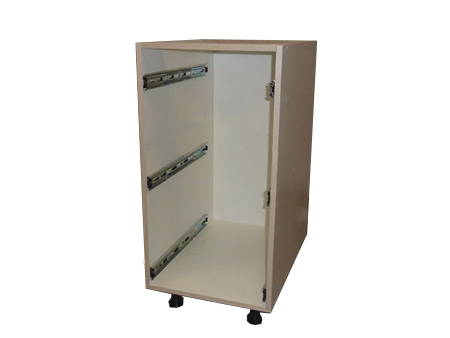 If you liked this post you can leave us your email so we can send you new projects for you to improve in the world of woodworking and not lose the practice.
Frecuently Asked Questions
Q. What kind of wood do you use to make cabinet drawers?
If we didn't let it clear until now the type of wood we use to make cabinets drawers is prefinished plywood. You can use this one or Solid wood, whatever you like.