How To Make DIY Wood Hexagon Shelves In 5 Steps
| | | |
| --- | --- | --- |
| Price | Time | Difficulty |
| 32.95 | 4-6 Hours | EASY |
One of my friends bought a new apartment and it was a little empty and had a lot of space in the walls, besides she always let little things all over the house like his keys, and ended up losing them. So I did this project to give her a present and I have to tell you it wasn't so hard!
It's surprisingly how she loved it and how simple it was for me. So I wanted to share how to make these easy diy hexagon shelves with you! Now you can have a new decor and a new place to let your keys or a present like me
(her hexagon shelves)
Build Homemade Hexagon Shelf
Things you will need to build the hex shelf:
Wood glue

One 1x4x12 common pine board (If you want it more wider use 1- 1x6x8)

Sandpaper

Paint

Turpentine

Four Large D-ring Hangers
Steps for make Honeycomb Shelves DIY
I'll recommend you to take the time to make well the measurements of the hexagon shelf and start with one and see if you like the dimensions. It is not necessary make more planes than these.
1- Cut your Boards
Cut rectangles in pieces of 5.5″ on the long side. Besides each board of your shelf should be cut at a 30º degree angle in the edges (all in the same side) so when you put them together you can perform the hexagonal shape
You can join a table to your miter saw with a clamp as a guide so that the pieces don't slip. They have to be all at the same measure.
2- Sand the wood
You can leave the tables without sanding or just give them little time to get a rustic touch. We are looking for something more modern so we use sandpaper to remove splinters
3- Assemble the Honeycomb shelf
Once the boards are smooth, place them next to each other to see if they are properly aligned in the shape of a hexagon. Bring up the Corner Clamps and start adding some glue to the edges of the boards.
The ProCorner will make sure they stay tight while you are gluing them. Go with a side then with the other wait a couple of hours till the glue is dry and do the missing parts.
4- Remove the remaining glue and start painting
If there are any areas where glue dripped out, sand them down. Or use a flat blade screwdriver because otherwise that part will remain unpainted later. After that start painting with a newspaper below

You can paint the honeycomb shelves to decor with white,gold or black to give them a modern style or leave them wooden color rustic. They seem really nice either way!
5- How to Hang your Shelves
Time to look at how cute these honeycomb floating shelves see hanging in the wall. First, we join them together with glue. And then we add the D-rings in the middle plane where the shelves meet. These rings straddle two shelves each.
If you are hanging them separately you can use sawtooth hangers to hang your shelves.
We hope you liked it and it turned out very well.
Some of the most commonly asked questions:
Q. What angle do you cut hexagon shelves?
Feel free to use the angle that fits the size of the shelf you are looking for. We recommend 30 degrees on each board for a shelf of this size.
Q. How do you attach a shelf to a hexagon?
For this issue I'll recommend using wood glue and if the situation allows it the wood clamps or tap. It fits in all situations
Q. How do you make floating shelves?
For hang your shelf in the wall you shuld use sawtooth hangers if it only one and D-Rings if are two or more shelfs

Q. Honeycomb shelves creative ideas
They can be used for multiple things and in different sizes. Totally worth it to have one. Try alternating sizes and shapes and BE CREATIVE!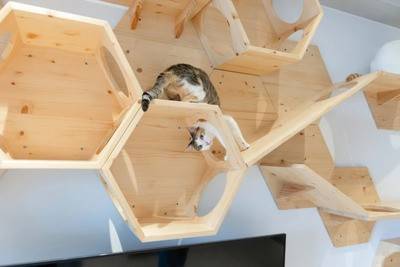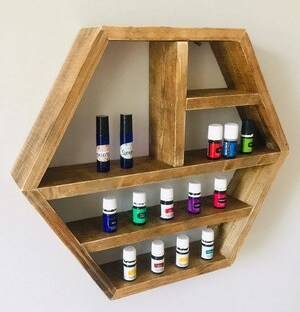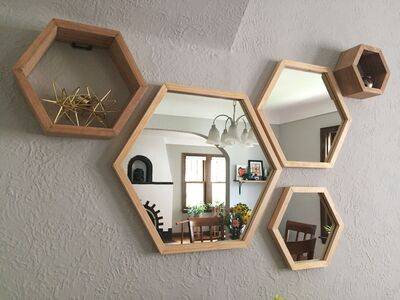 Bookshelf for Storage, Honeycomb